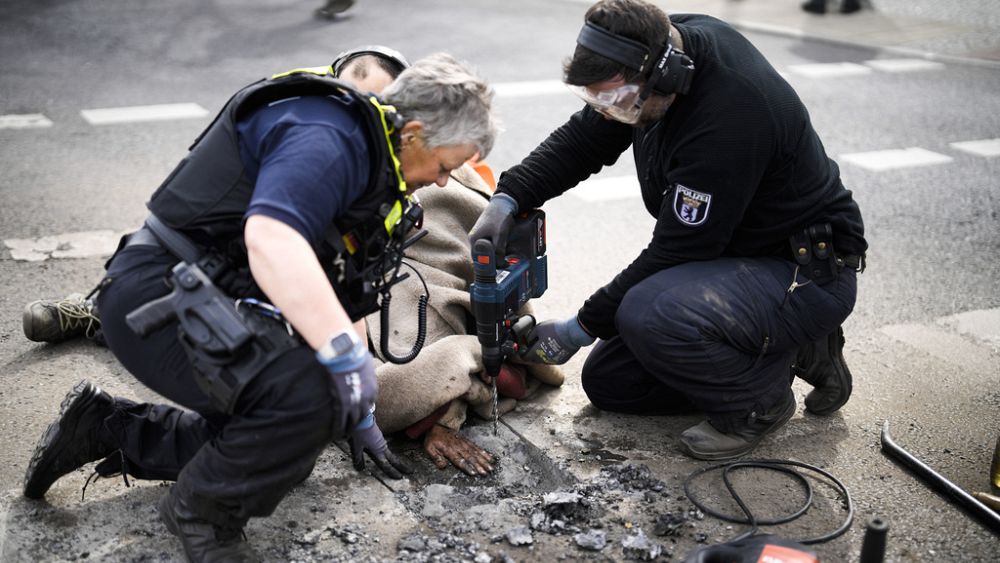 Police in Germany used drills and a crowbar to free a climate activist in Berlin after he glued his hand to a road during a nationwide protest on Monday.
Officers worked over an hour to release the man, who had used a special superglue that could not be dissolved by using olive or sunflower oil, which is what the police have found effective previously.
On this occasion, they resorted to drilling out a chunk of the tarmac around the protestor's hand.
Activists from the 'Last Generation' group frequently block roads in Germany, demanding more drastic government action against climate change.
Conservative politicians have denounced the group's tactics which they say are extreme.
Police reported several roadblocks across the capital on Monday.
The group also threatened to block traffic by marching very slowly through Berlin later in the day, as they did on Friday.
Up to 500 police officers were due to be on the streets in the city to prevent further blockades or end them quickly, German media reported.
Last Generation wants Germany to stop using all fossil fuels by 2030 and take short-term measures to battle climate change.
They include the imposition of a general speed limit of 100 kilometres per hour (62mph) on highways as a way of cutting transport emissions.
Advertisement
The new Emirates Premium Economy has arrived on the latest Emirates A380
Get the best value from your summer holiday with exclusive offers and discounts across Dubai and the UAE with Emirates Pass