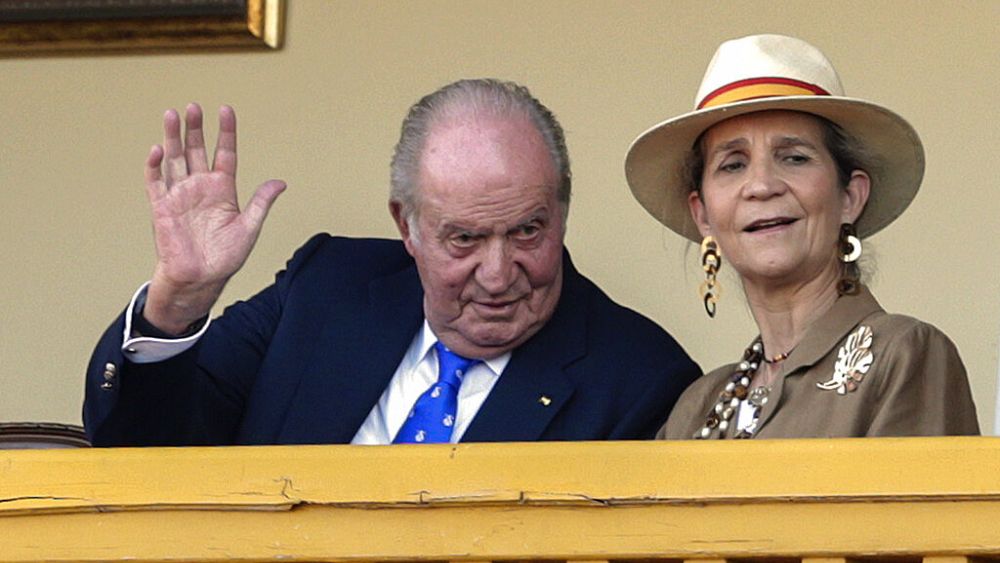 When Juan Carlos left Spain after a quick, but controversial, visit last week, the royal family breathed a sigh of relief that it went off without any incidents.
But little did they know the next scandal for the House of Borbón was just around the corner.  
Despite putting several thousand kilometres between the Zarzuela Palace and his new home in self-imposed exile in Abu Dhabi, Juan Carlos has managed to be at the centre of attention once again. 
This time, one of the Spanish royal family's best kept secrets might just have been revealed. 
An upcoming book by two investigative journalists claims the emeritus king fathered a fourth child after Princess Elena, Princess Cristina and King Felipe — another daughter, Alejandra. 
Journalists José María Olmo and David Fernández from the El Confidencial newspaper say that Alejandra was born in the late 1970s or early 1980s, and that her mother is a member of Spain's aristocracy. 
Alejandra's mother, the journalists write in their new book due out on 8 May, met the ex-king when she was much younger, had friends in common with him, and shared his passion for hunting. 
For his part, Juan Carlos has denied the allegation, saying: "It is not true that I have a daughter."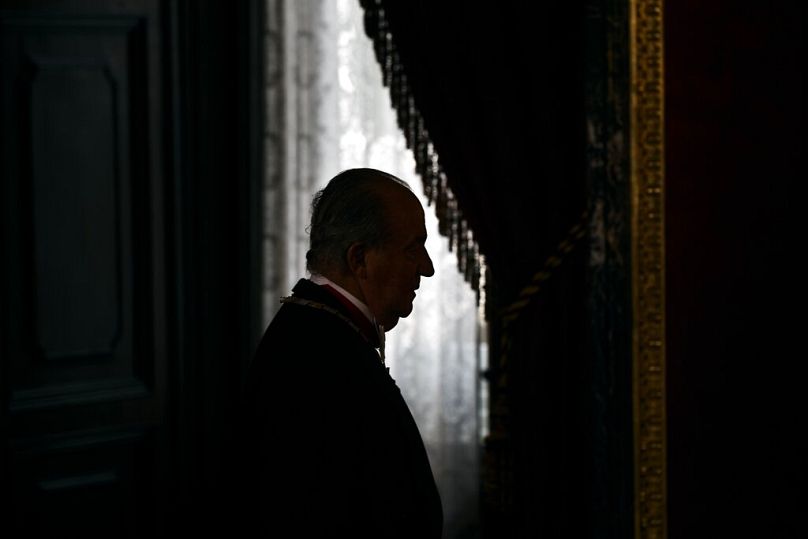 What do we know about Alejandra?
The emeritus king's alleged youngest daughter was born without knowing who her father was, Olmo and Fernández claim. 
The new book says that when Alejandra found out who her father was, she wanted to keep her distance from the Royal Household, but that over they years Juan Carlos grew more attached to his daughter, showering her with displays of affection and gifts. 
Despite the initial secrecy, the former king recognised Alejandra and paid her maintenance, according to the Spanish journalists. He was also said to be proud of her intelligence and used to talk about her to friends and relatives.
Within the Spanish royal court, Alejandra's existence was said to be an open secret. 
The explosive new book from journalists Olmo and Fernández says that one of Juan Carlos's greatest fears was that before anyone knew about Alejandra, his son Felipe might meet her and start dating without knowing they were related, but this never happened. 
Despite Alejandra's existence apparently being an open secret, her relationship to King Juan Carlos was never allowed to become public knowledge out of respect for Juan Carlos's marriage to Queen Sofia. The priority for the royals was to maintain institutional stability, which means that the general public in Spain are only now finding out about the allegations that King Juan Carlos had a love child. 
The journalists say their version of the story has been confirmed by one former lover of King Juan Carlos, and a businessman close to the former monarch — both claim to have first-hand knowledge of his relationship with his daughter. 
Speculation in Spanish press
Spanish media have been quick to point to Alejandra de Rojas, daughter of the Countess Charo Palacios, as Juan Carlos' possible daughter.
At first glance, many details of her life match up with the revelations in the new book. Alejandra is blonde, tall and beautiful. She has worked in the fashion industry, and been a model in several advertising campaigns.
Her mother, Charo, used to meet the king during his summer holidays in Sanxenxo, in the north of Spain.
Illegitimate children in the European monarchy
Spain's excitable tabloid media is buzzing with speculation about what Juan Carlos's next step might be after the new book is published and the allegations are laid bair. 
But his case is not the first among European royal families. 
After years of legal wrangling, Albert II, King Emeritus of Belgium, had to take the formal step to recognise Delphine Boël, his daughter from an extramarital affair.
The story is very similar to the Spanish one. A young journalist, Mario Danneels, published Queen Paola's biography where he mentioned Albert II's relationship with his lover during the 1960s.
Baroness Sybille de Sélys Longchamp had a secret affair with the former king for more than ten years. She was the wife of Jacques Boël, Delphine's legal father and a member of a wealthy Belgian family.
Delphine's struggle for recognition ended when her father was forced by the courts to admit that she was his daughter after a DNA test.
Advertisement
The new Emirates Premium Economy has arrived on the latest Emirates A380
Get the best value from your summer holiday with exclusive offers and discounts across Dubai and the UAE with Emirates Pass