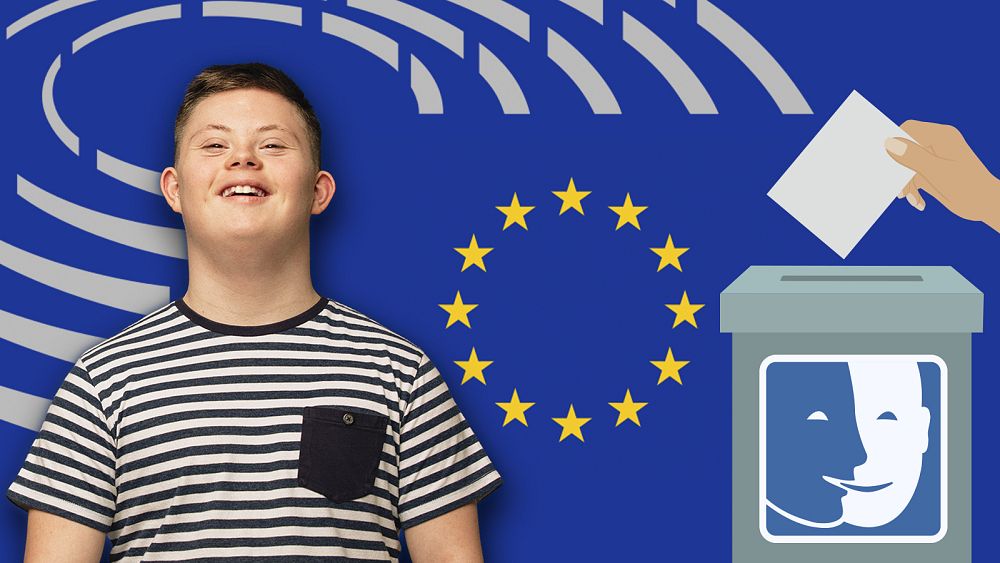 A few years ago, Fintan Bray was visiting Brussels with his brother. 
As they were touring the city, one of them called Fintan's attention: the European Parliament. 
"One day, I will be in", he said to his brother. 
Ambitious, he has since worked hard to get into Irish politics, becoming the first person with Down Syndrome to be elected to a senior position within a political party in Ireland on October 2022. 
"I'm very proud to be able to represent people with disabilities, and making sure our voices are heard", he told Euronews. 
"And I'm not going to stop". 
Being a member of Fianna Fáil for almost 20 years, he has long been involved in politics in his party, using his voice in conferences and events to empower people with disabilities. Now that he was voted in the party's National Executive, or 'Committee of 15', he could not be happier.
"So far, it has been an incredible experience", he says.
Fintan's story has been made possible with the help of his family – who supported his dream from day one – and Irish society in general.
His main objectives as the party's Equality Officer are to improve access to paid employment and higher education for his community. 
Not only is it possible for people with disabilities to hold political responsibilities in Ireland: Starting this week,  extra support will be made available for when they vote. 
In 2015, Ireland approved the Assisted Decision-Making (Capacity) Act, which empowers those who may have difficulty making decisions – for example, people with intellectual disabilities – to better exercise their democratic rights as citizens. 
Since Wednesday 26th, this act explicitly supports decision-making for people with disabilities – making Ireland one of the most inclusive voting systems in the EU. 
Because this is not the case in all EU countries.
No consensus on disabilities and politics
Fintan Bray's story would be unimaginable in other EU countries. 
The movement of Irish society to better include people with disabilities in politics is not yet found in many other European countries. 
"There are no expectations for people with Down syndrome to be included in politics," says Pat Clarke, representative of the European Down Syndrome Association.
"But this is changing", he adds.
In his opinion, we are living in auspicious days for people with disabilities, as a paradigm shift is underway with higher expectations set for people with disabilities. 
"More and more countries are working on the presumption of possibilities for those people", Clarke told Euronews. 
Yet, the process is slow.
"For persons with disabilities, there exist legal barriers in the EU for being candidate, and sometimes for voting," says Alejandro Moledo, coordinator of EU Policy for the European Disability Forum (EDF).
Disabilities and political rights?
In its 2022 flagship report, the EDF delved into the rights to vote and stand as a political candidate for people with disabilities in the EU. 
It found that during the 2019 European Parliament elections, approximately 400,000 persons with disabilities in 14 countries were deprived of their right to vote on the basis of their disability. 
"Some countries consider people with disabilities as second-class citizens", Moledo told Euronews.
For the right to stand as a candidate, the situation is worse.
Only seven countries (Austria, Denmark, Germany, Spain, Croatia, Italy, Netherlands and Sweden) uphold the right for all persons with disabilities to stand for office.
"We are trying to push for more representativity. In the EU Parliament, only five Members of Parliament declared having a visible disability – so we're not even talking about people with invisible disabilities. This is far from the 15% of the EU population with disabilities," added Moledo.
Commenting on this issue, Fintan said EU elections are in the back of his mind, but he wants to concentrate on more local issues. 
"Maybe I will consider being a candidate [for the EU elections] in the future. For the moment, I want to be a voice for my community, so they can have what I have."
One of Fintan's main objectives at the moment is to defend the right to work for people with disabilities. He is currently trying to push for more accountability within employing disabled people. 
"A lot of my friends with Down Syndrome are getting a few hours a week work a not being paid", he said.
"I'm not going to stop".
Advertisement
The new Emirates Premium Economy has arrived on the latest Emirates A380
Get the best value from your summer holiday with exclusive offers and discounts across Dubai and the UAE with Emirates Pass