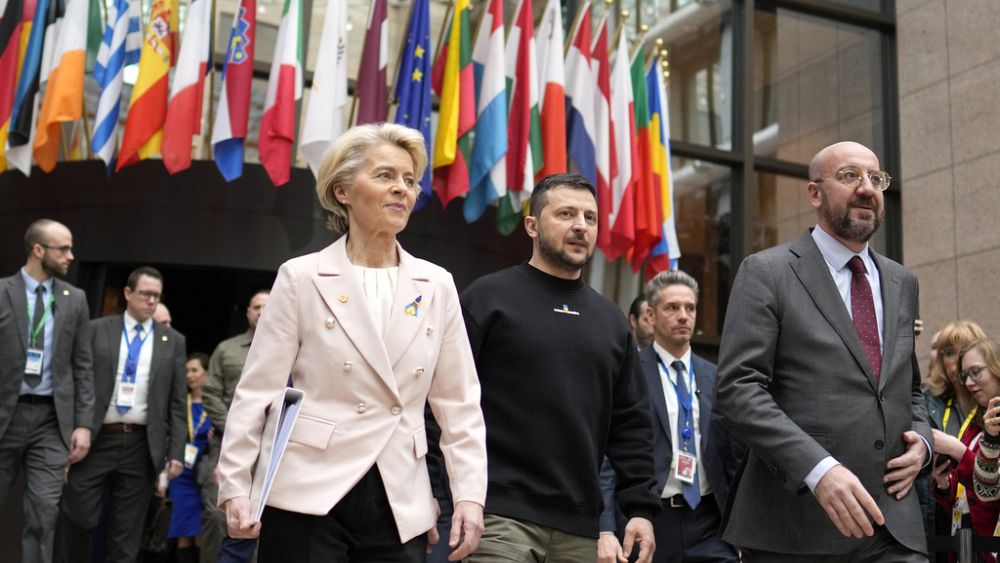 European Commission President Ursula von der Leyen marked Europe Day by visiting the Ukrainian capital Kyiv on Tuesday for talks with President Volodymyr Zelenskyy. 
The 27-nation bloc traditionally marks "peace and unity" on May 9.
On Monday, Zelenskyy announced his country would equally celebrate the day "together with all of free Europe."
Von der Leyen has already visited Kyiv on several occasions since Russia's full-scale invasion of Ukraine 14 months ago. She has been a major driver in providing support for the embattled nation and in setting sanctions targeting the Kremlin.
Zelenskyy was in the Netherlands only last week, where he urged speed in having the EU welcome Ukraine as a member.
Ukraine is officially a candidate for membership but formal negotiations have yet to begin — a process that could take many years.
As von der Leyen met Zelenskyy Russia was due to celebrate its annual Victory Day with a huge military parade in Moscow's Red Square overseen by President Vladimir Putin. 
May 9 is the day when Russia marks the defeat of Nazi Germany in World War II.
But observers say the mood will be somewhat different this year because of the ongoing war in Ukraine sparked by Russia's illegal invasion. 
There have been a number of sabotage attacks across Russia in recent weeks that Moscow has blamed on Ukraine although Kyiv has denied any involvement. 
Ukraine usually takes part in the May 9 celebrations but in light of the invasion, President Zelenskyy has proposed establishing May 8 as a Day of Remembrance and Victory over Nazism in World War II. 
"It is on May 8 that the world honours the memory of all those, whose lives were taken by that war. It is pure history, without ideological admixtures," Zelenskyy said in his video address published on Monday.
Zelenskyy said that 80 years ago Ukraine was fighting against "total evil."
"We fought then and we fight now so that no one ever again enslaves other nations and destroys other countries. And all those old evils that modern Russia is bringing back will be defeated just as Nazism was defeated," Zelenskyy said.
Advertisement
The new Emirates Premium Economy has arrived on the latest Emirates A380
Get the best value from your summer holiday with exclusive offers and discounts across Dubai and the UAE with Emirates Pass