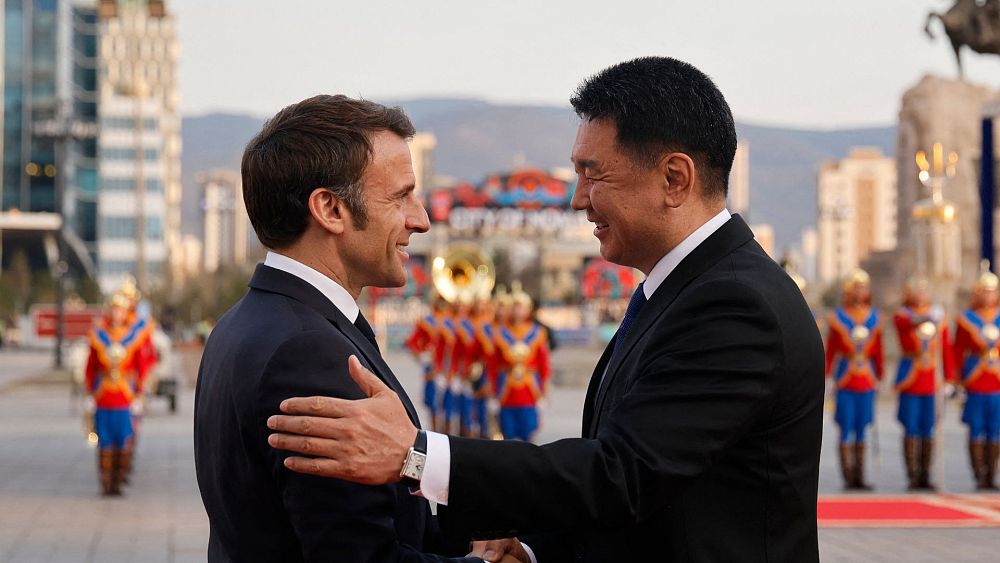 Emmanuel Macron is the first sitting French president to set foot on Mongolian soil since the establishment of diplomatic relations in 1965 between the two countries.
Mongolian President Ukhnaagiin Khürelsükh welcomed Macron with a grand ceremony, to a country almost three times the size of France but with a population of only 3.3 million.
It is no coincidence that Macron stopped off in Ulaanbaatar, the capital. He is making every effort to reach out to countries that have not clearly condemned Russia's war in Ukraine. Macron could see this as an opportunity to consolidate relations with countries bordering Russia, as he did recently when he welcomed the Uzbek and Kazakh presidents to Paris.
Paris announced that it wanted to "loosen the constraint on Russia's neighbours and give them a choice of options". Mongolia is landlocked between Russia and China and remains dependent in terms of exports, 86% of which end up in China.
Since the war in Ukraine, France has sought to detach itself from Russia to obtain uranium supplies by diversifying its imports among several countries, such as Kazakhstan, Niger and Australia. 
Mongolia is next on France's list of suppliers. 
A soil rich in uranium
The French nuclear group Orano (formerly Areva) has been operating in Mongolia sice 1997 with several natural uranium mining projects. Uranium exports to France are still insignificant, but Orano has a significant presence in Mongolia, where it is working with state-owned companies to exploit deposits in the Gobi desert in the southeast of the country.
The two heads of state have committed to accelerating the development of two uranium deposits: Dulaan Uul and Zoovch Ovoo, whose resources are estimated at 64,000 tonnes. France consumes about 7,000 tonnes of natural uranium per year to produce 40% of its energy.
It is estimated the Mongolian mines would be in operation for the next three decades, employing 800 local workers.  
The problem is that local populations don't approve of this project, which "brings a lot of bitterness", says Khishig-Erdene Gonchig, a PhD in legal science and a promoter of cultural and educational projects in Mongolia.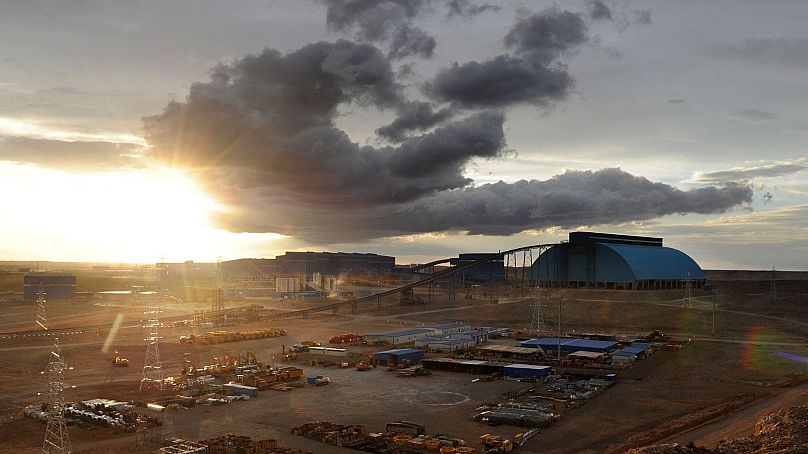 She recalls Laurent Fabius' visit to Mongolia in 2013 when Areva (now Orano) signed an association agreement with the Mongolian state-owned company Mon-Atom to develop these two uranium mines in the Gobi desert. Even then, "it wasn't exactly applauded," she says ironically.
The Mongolians respect the "mother earth", which they consider sacred, says Gonchig, and take a dim view of the establishment of industrialists, as they did when the Anglo-Australian giant Rio Tinto started up its copper mine in March.
In 2018, Orano had been targeted by a judicial investigation by the French Parquet national financier (PNF) for suspicions of "bribery of a foreign public official" in Mongolia. Eurotradia International, the consulting firm that played a decisive role in the authorisation of uranium mining in the Gobi desert, is suspected of corruption by PNF. Orano has since announced that it is "terminating the contracts with Eurotradia".
The management of the country's oil and mining resources has been plagued by endemic corruption for years. In December 2022, thousands of people marched in the capital accusing MPs and company executives of embezzlement after the revelation that one million tonnes of coal had been misappropriated over nine years.
Complaint filed against Orano's project
Emmanuel Macron's visit brought "something very joyful but marked by a commercial state of mind", Chimegmaa Orsoo, a PhD in political science and anti-nuclear activist based in France, told Euronews. She has recorded serious health incidents among local populations living around the mine operating sites in Mongolia. 
With a group of Mongolian citizens, she filed a complaint in 2018 against Badrakh Energy, Orano's subsidiary in Mongolia. The plaintiffs claim that mining has caused, among other things, malformations in livestock, cancers and miscarriages. Orano insists that its "in-situ leaching" (ISL) extraction method is "safe for humans and the environment".
The French Sortir du Nucléaire network of associations has criticised this extraction method, which injects "enormous quantities of sulphuric acid into the ground, hundreds of tonnes to extract one tonne of uranium". They say this could contaminate the wells used in this desert region by the population.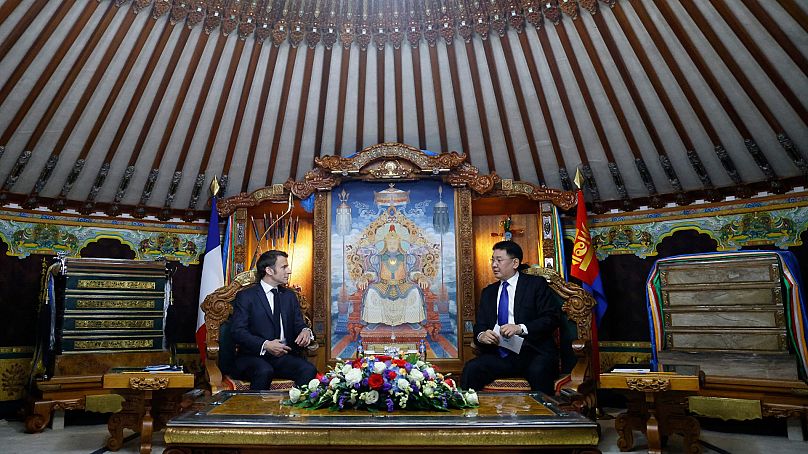 Euronews was given access to documents from the legal proceedings which appear to indicate that wells near Orano's facilities have been contaminated with strontium and arsenic. Orano replied to Euronews in an email saying that the groundwater in the area "is unfit for human consumption […] due to its natural chemical composition". 
"The poor quality of the water was recorded in the pilot area long before the first Badrakh Energy operations began," Orano adds. 
Orano also explains that it commissioned the independent international organisation Stantec to conduct a study, which concluded that "the uranium mine project has no negative impact on the environment, human and livestock health."
The plaintiffs are now seeking an independent expert opinion that may or may not prove, at trial, the link between the uranium mines and the health problems observed in their vicinity.
The Mongolian embassy in Paris was unable to respond to Euronews' interview requests.
Advertisement
The new Emirates Premium Economy has arrived on the latest Emirates A380
Get the best value from your summer holiday with exclusive offers and discounts across Dubai and the UAE with Emirates Pass