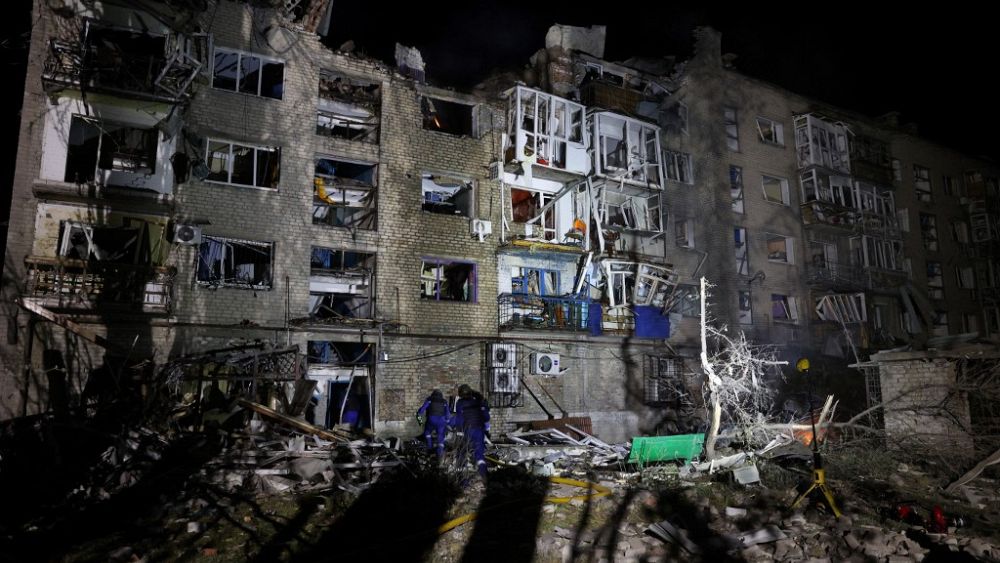 Rescuers search rubble after deadly Russia strike
Rescuers resumed their search for survivors in the ruins of a residential building in eastern Ukraine at dawn on Tuesday, following a Russian strike the day before. 
ADVERTISEMENT
At least seven people were killed when two Russian missiles decimated an apartment in Pokrovsk, an area where Moscow also claims to have gained ground in recent days. 
Journalists on the scene saw rescuers work feverishly around the badly damaged five-storey building, evacuating the injured and lowering residents trapped in their homes with a large ladder. 
Sixty-seven people were injured, said Pavlo Kyrylenko, head of Donetsk's military administration, on Telegram. 
Relief operations were interrupted during the night because of the risk of new bombardments, he noted. 
Pokrovsk, located 70 km northwest of Donetsk, had a population of 60,000 before the war.
"Today we are overwhelmed with pain, anger, tears," the Pokrovsk military administration wrote on Facebook.
Dr Jade McGlynn, Research Fellow in War Studies at King's College London, told Euronews in June, Russia was deliberately bombing Ukrainian civilians in a bid to undermine their resolve. 
"The ultimate intention is to break the will of the population so that they will at some point give in and accept Russia," she explained, claiming it was personally "directed" by the Russian President.
"Putin believes the West will give up and Ukrainians will just be grateful for an end to the terror."
Kyiv content with peace talks in Jeddah
Ukraine said on Monday it was "satisfied" with the summit held in Saudi Arabia over the weekend to which Moscow was not invited.
The meeting – attended by representatives from some 40 countries including China, India and the US – centred on a possible peace agreement to end the fighting in Ukraine.  
ADVERTISEMENT
"We are very satisfied with the results of the summit," said Ukrainian President Volodymyr Zelenskyy's chief of staff Andriy Yermak.
He said a further meeting had been agreed to in principle and that "more countries will participate", "but no exact date has been set". 
Moscow has previously said only Kyiv's surrender could end its offensive. Kyiv wants the withdrawal of Russian forces from all of its territory. 
"We are convinced that a truly comprehensive, lasting and equitable settlement is possible only if the Kyiv regime puts an end to hostilities and terrorist attacks," said Russian Foreign Minister Maria Zakharova. 
The US hailed China's involvement in the talks as "productive", with State Department spokesman Matthew Miller saying "China has a role to play in ending the war". 
ADVERTISEMENT
"If it agrees to… respects Ukraine's territorial integrity and sovereignty," he added.
A US report from July found Beijing is likely supplying Moscow's war effort in Ukraine, sending fighter jet parts, jamming devices and other equipment. 
Russian damage in Odesa worse than feared – UNESCO
UNESCO has warned buildings hit by Russian strikes in the historic centre of Odesa suffered "greater damage than initially estimated".
Speaking in Kyiv on Monday, Chiara Dezzi Bardeschi presented the preliminary conclusions of a recent UNESCO mission, where more than 50 shattered buildings in Ukraine's Black Sea city were visited
"It is clear that the magnitude of the impact on the historic city centre is wider than initially expected," she said. 
ADVERTISEMENT
Bardeschi revealed that Odesa's Transfiguration Cathedral, the House of Scientists, and the Odesa Museum of Literature were among the worst-hit sites so far, acknowledging their "deep spiritual significance for the people of Odesa."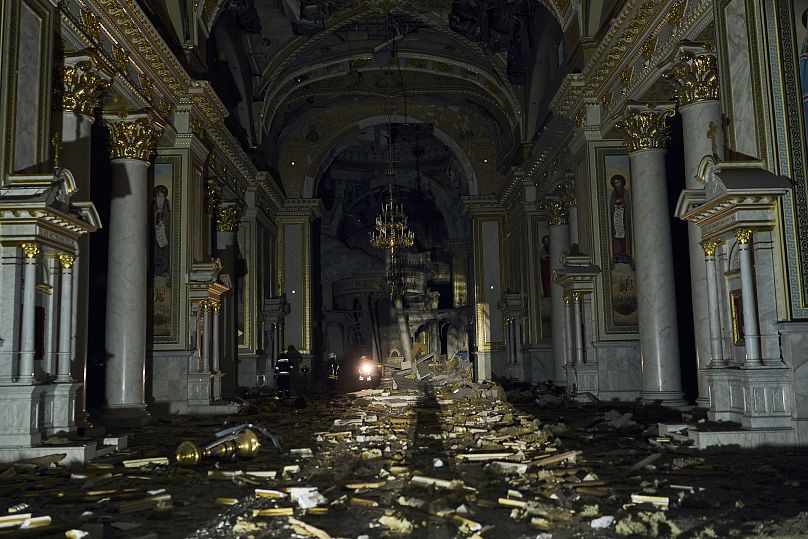 Attacks threatened "entire sectors of the historical fabric" of the city, she added.
Odesa's Transfiguration Cathedral, under UNESCO protection, was left badly damaged after Russian missile attacks on the southern port city in July. Russia has pounded Odesa since quitting the Black Sea grain deal.
UNESCO will ask for "urgent funding" to support protecting the city's historic centre, now more fragile due to previous attacks.
The UN body has confirmed at least 274 cultural objects across Ukraine have been damaged since Russia launched its February 2022 invasion. 
It is considering declaring some World Heritage Sites as "in danger", including the Saint Sophia Cathedral and the Lavra Monastery in Kyiv, or the Old Town in Lviv.
Advertisement
The new Emirates Premium Economy has arrived on the latest Emirates A380
Get the best value from your summer holiday with exclusive offers and discounts across Dubai and the UAE with Emirates Pass