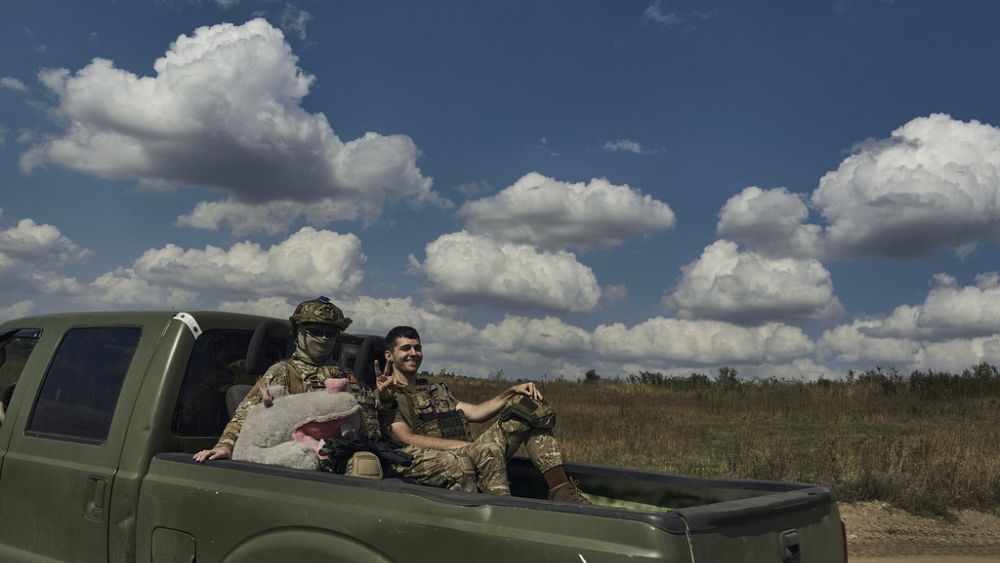 Ukraine dismisses defence minister
Ukraine's Defence Minister Oleksii Reznikov has been dismissed from his post, the country's leader Volodymyr Zelensky has announced.
In his nightly address, Ukrainian President Volodymyr Zelenskyy said "new approaches" were needed in the defence ministry, with Reznikov at the helm since Russia invaded last February.
Rustem Umerov has been appointed his successor. 
He is a prominent official of the Crimean Tatar community who has represented Kyiv in sensitive negotiations with Moscow.
Umerov, 41, was born in what was then the Soviet republic of Uzbekistan, where his family had been exiled under Stalin. As a child, his family resettled in Crimea when the Tatars were allowed to return during the 80s and 90s.
Drones downed in Ukraine's Odesa region
Ukraine intercepted 17 Russian drones in the southern Odesa region, which damaged buildings in a port district, a local governor said on Monday.
Around Izmail, warehouses and production buildings, agricultural machinery and industrial equipment were damaged," wrote Oleg Kiper on Telegram.
Falling debris from downed drones caused several fires to break out, added the governor, noting they had since been extinguished. 
The attack lasted three and a half hours and caused no casualties, he said. 
Izmail's river port has become one of the main exit routes for Ukrainian grain since Moscow ended a deal that allowed Kyiv to export them over the Black Sea in July. 
Over the weekend, Russian drones hit industrial sites on the Danube River, said the office of the Prosecutor General of Ukraine. 
Russia claims it destroyed Ukrainian speedboats
Moscow said on Monday it had eliminated military speedboats carrying Ukrainian soldiers in the Black Sea.
The Russian Ministry of Defence claimed its Black Sea Fleet destroyed four US-made Willard Marine speedboats heading towards Cape Tarkhankut on the west of the annexed peninsula, overnight from Sunday to Monday. 
It said the speedboats were carrying landing groups of the Ukrainian Armed Forces. 
Last week, the Russian MoD claimed it had destroyed four Crimea-bound military boats with 50 Ukrainian special forces on board, without providing further information.
On August 24, Ukraine carried out a rare commando raid against the Black Sea peninsula, annexed by Moscow in 2014, and claimed to have hoisted its national flag there.
Erdogan and Putin to hold talks on reviving grain deal
Turkey's president will travel to Russia on Monday to discuss resuming a deal that allowed Ukraine to export its grain over the Black Sea – ahead of the crucial autumn harvest. 
Recep Tayyip Erdogan will meet Vladimir Putin in Sochi, southwestern Russia.
Their meeting comes as Russian forces try to contain Kyiv's counteroffensive, which is beginning to show signs of progress after three months of hard fighting. 
The Turkish leader hopes grain talks can act as a springboard for wider negotiations between Kyiv and Moscow.
Erdogan is one of the rare leaders within NATO to maintain good relations with Putin.
Putin's decision to postpone Turkish payments for Russian gas helped soften an economic crisis that nearly cost Erdogan re-election in May.
For its part, Turkey has refused to join Western sanctions against Russia and become a prime location for Russians to access different products and services.
Russia withdrew in July from a landmark deal that allowed Ukraine to transport its grain – crucial for the world's food supply – complaining that sending its own agricultural products and fertilisers to world markets was hampered by Western sanctions.
Russia has since threatened to attack ships leaving Ukrainian ports in the Black Sea.
It has also intensified its bombardments of Ukrainian port infrastructure.
Advertisement
The new Emirates Premium Economy has arrived on the latest Emirates A380
Get the best value from your summer holiday with exclusive offers and discounts across Dubai and the UAE with Emirates Pass