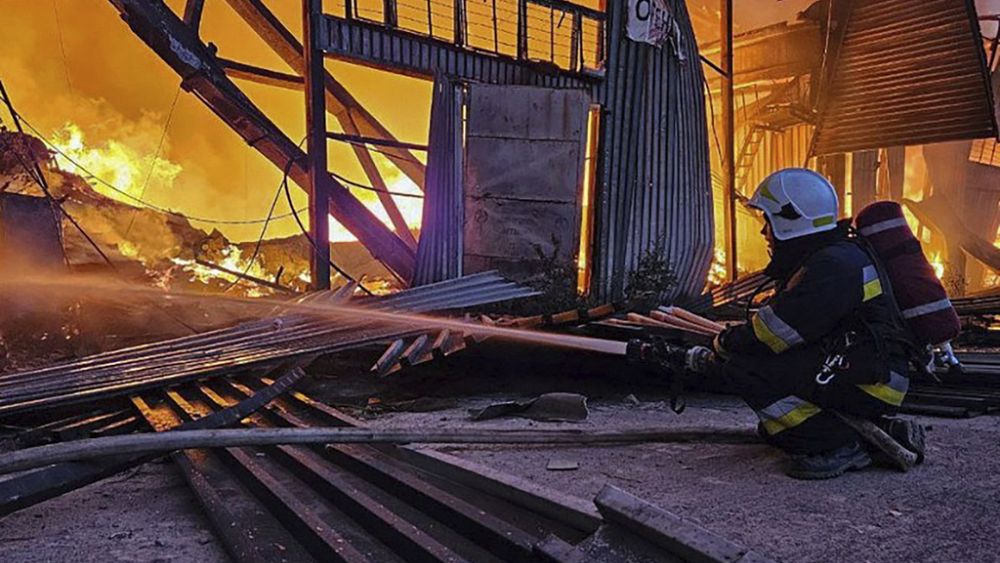 Russian missiles rain down on Ukrainian cities
Several cities and towns in Ukraine were hit by Russian rockets overnight from Wednesday to Thursday, killing two in Kherson and injuring others in Kyiv. 
Residential areas in the southern city of Kherson were reportedly bombed, with two men aged 29 and 41 killed in a strike on an apartment building. Four others were hospitalised, including one in a serious condition. 
Seven people in the capital Kyiv were injured by falling debris from downed Russian missiles, including a 9-year-old girl, according to Mayor Vitali Klitschko.
Several people were also injured in the town of Cherkasy, after a hotel was hit in a Russian attack. 
The eastern city of Kharkiv, near the Russian border, was also bombed, along with the northwestern Lviv region. 
Though Moscow denies attacking Ukrainian civilians, experts told Euronews in June there was a deliberate strategy behind its bombing campaign. 
Poland to stop supplying weapons to Ukraine
Warsaw announced Wednesday evening it would no longer send arms to Kyiv, amid a growing rift between the two countries over grain. 
"We are no longer transferring any weapons to Ukraine," said Polish Prime Minister Mateusz Morawiecki on television. 
"We are mainly focusing on modernising and rapidly arming the Polish army, so that it becomes one of the most powerful land armies in Europe," he said. 
Morawiecki specified that a military hub in Rzeszow, through which Western equipment destined for Ukraine passes, was still operating normally.
The PM did not detail when Poland, one of the largest arms suppliers to Ukraine, would cut off supplies or if the move was linked to their spat about grain. 
With elections looming at home, Warsaw has imposed a ban on Ukrainian grain to protect its own farmers, who have complained they cannot compete with its cheaper imports. 
Speaking at the UN on Tuesday,  Ukrainian President Volodymyr Zelenskyy made a barbed comment about Poland's move, saying "certain countries" were "feigning solidarity" with Kyiv "by indirectly supporting Russia".
This, in turn, drew a sharp response from the Polish Deputy Minister of Foreign Affairs who said it was "false" and "unjustified considering Poland has supported Ukraine since the first days of the war".
Zelenskyy in Washington to ensure continued US support
Aware that some in the US are becoming weary of providing support, Ukraine's number one will visit the White House on Thursday.
Zelenskyy is likely to want five things from Washington, his richest and most powerful ally, as his country's counteroffensive continues.
Read more below. 
Zelenskyy rails against 'criminal' Russia at UN
Ukraine's leader challenged Russia during an exceptional session of the UN Security Council on Wednesday, denouncing Moscow's "aggression". 
He also lamented at how Russia was "blocking" the UN body with its veto power. 
"Most countries in the world recognise the truth about this war," said Zelenskyy, facing Russia's UN Ambassador Vasily Nebenzia.
"This is a criminal and unjustified aggression by Russia against our nation, which aims to seize the territory and resources of Ukraine," he said, dressed in his usual khaki green fatigues.
He urged the UN to rescind Russia's veto power at the Security Council, which it enjoys as one of the five permanent members, along with China, France, the UK and US. 
"The right of veto in the hands of the aggressor blocks the UN," he said, claiming it "impossible to stop" the war because of Russia's veto and its support from other countries in the UN. 
Differing attitudes towards the Ukraine war prevail in the Global South, with many states abstaining from UN resolutions condemning Moscow and instead calling for peace talks. 
Wednesday's address was the first time since Russia launched its invasion in February 2022 that Zelenskyy spoke in person at the UN Security Council.
Advertisement
The new Emirates Premium Economy has arrived on the latest Emirates A380
Get the best value from your summer holiday with exclusive offers and discounts across Dubai and the UAE with Emirates Pass