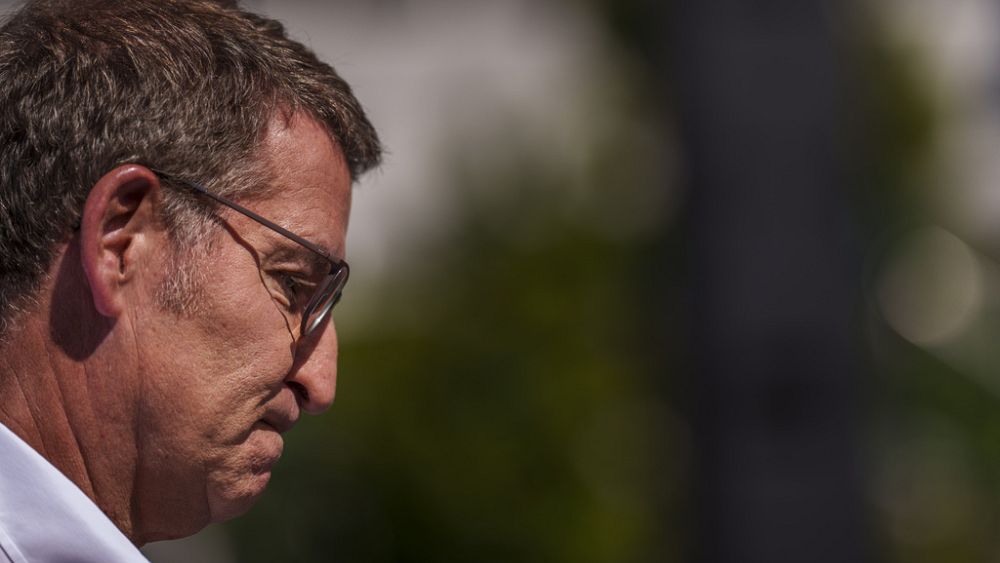 The leader of Spain's conservatives, Alberto Núñez Feijóo, could form a new government this week, though observers say it is likely doomed to fail given his lack of support in parliament.
Feijóo's Popular Party won the most votes in nationwide elections on 23 July, which left all parties far short of an outright majority and facing a difficult path to power.
If, as expected, Feijóo fails in his bid, incumbent Prime Minister Pedro Sánchez will get his chance to stay in Moncloa Palace. 
That is if he can rally the support of left-wing, regionalist and even separatist parties.
Here's what you need to know about Feijóo's bid to become President, which begins when he addresses the Spanish parliament on Tuesday.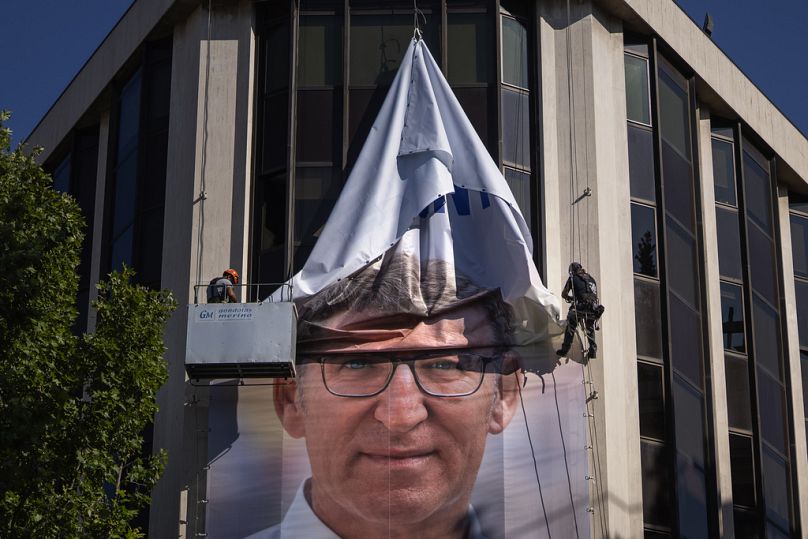 Why won't the conservatives rule Spain?
Right-winger Feijóo has two chances to become the next PM of the European Union's fourth-largest economy. But, barring a surprise, he will fail to secure the necessary votes on both days.
On Wednesday, after 24 hours of parliamentary debate, the Popular Party leader would need to win an outright majority of 176 votes in the 350-seat lower house.
If he fails to do so, the bar would be lowered on Friday and only more 'yes' than 'no' votes would be needed. This scenario would open up the possibility of abstentions tipping the balance in his favour.
With 137 seats, the Popular Party is the largest group. But even with the 33 votes of the far-right Vox party and two more from small, conservative parties from Navarre and the Canary Islands, it is still four short.
Feijóo's chances seem to depend on abstentions, which would be a surprise.
Most parties across Spain's political spectrum have ruled out making a pact with the extreme right, which is why they will not support Feijoo's government.
"There is an elephant that is not even in the room, it is in the hall and it is blocking the way for us to enter into any relationship [with Feijóo], and that elephant is Vox," the leader of the Basque regionalist party PNV, Andoni Ortuzar, told Spanish national radio.
On top of this, two Catalan separatist parties that could sway things have both ruled out abstaining because of what they see as the Popular Party's belligerent attitude towards their movement.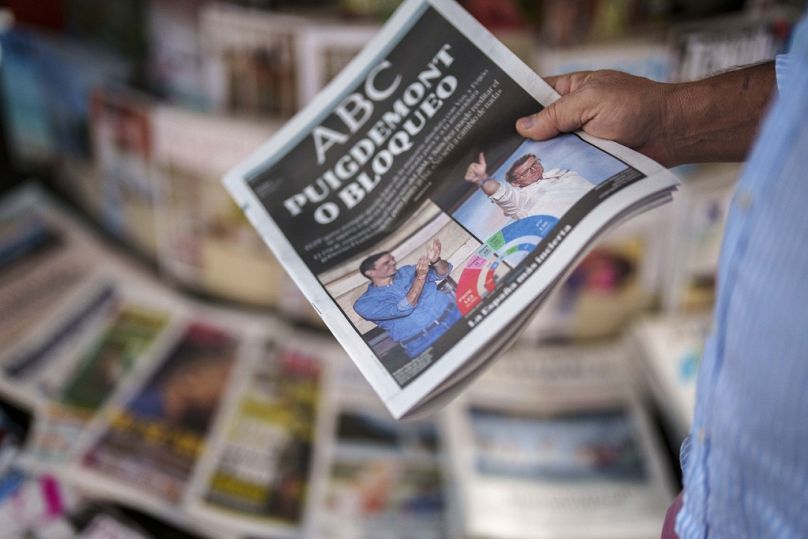 What happens after the conservative's defeat?
A defeat for Feijóo would automatically trigger a two-month period during which other candidates can step forward to seek parliament's approval to form a new government. 
If no candidate passes the test, parliament would be dissolved on 27 November and elections called for 14 January.
The Socialists have already taken it for granted that Feijóo will lose and are working to gather the support needed to repeat their left-wing coalition of Socialists and the left-wing Sumar party.
But they face obstacles. 
Sánchez will need the support of the Catalan separatist party Junts, whose leader, Carles Puigdemont, is the self-exiled former head of Catalonia who lives in Brussels, where he holds a seat in the European Parliament.
Puigdemont fled Spain in 2017 after leading a failed push for Catalan independence.
Although support for separatist parties fell in July's election, while it rose for unionist parties led by Catalonia's Socialists, Puigdemont now has the power to be kingmaker thanks to the Junts' seven seats in the national parliament.
His demand is nothing less than an amnesty for Catalans in legal trouble for their role in the separatist bid six years ago.
An amnesty would be unpopular with many Spaniards. 
On Sunday, 40,000 people – and up to 60,000 according to the Popular Party – gathered in Madrid to protest against possible amnesty plans by acting Prime Minister Pedro Sanchez.
With talk of a possible amnesty overshadowing his own chances of forming a government, Feijóo is trying to use the controversy over a possible amnesty to boost his slim chances.
Advertisement
The new Emirates Premium Economy has arrived on the latest Emirates A380
Get the best value from your summer holiday with exclusive offers and discounts across Dubai and the UAE with Emirates Pass